Essential Today, Essential to the Future: Latinos and an Equitable Labor Market Economy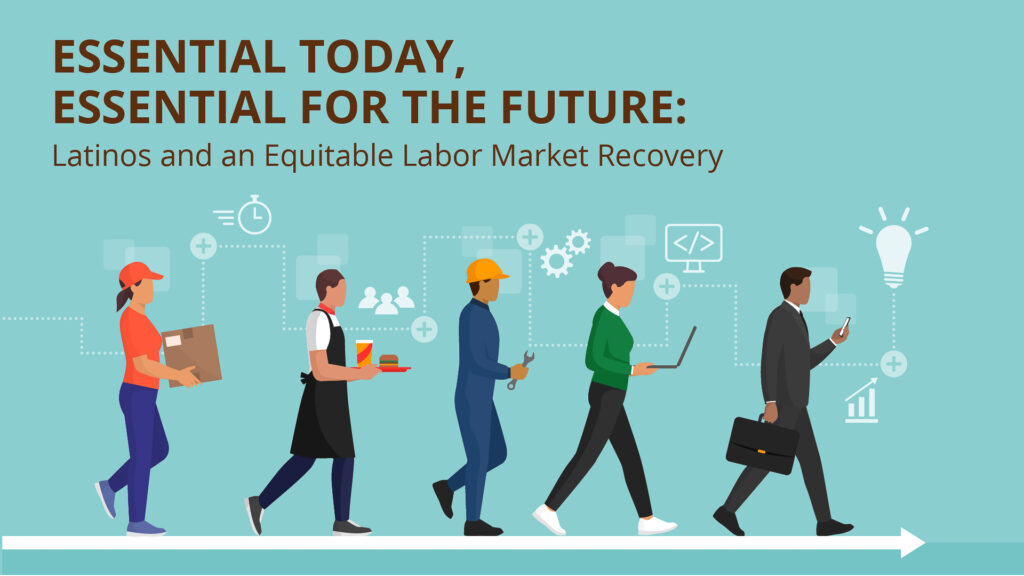 As we focus on an economic recovery for the Commonwealth, government, business, philanthropy, and community-based organizations share a common belief: we must build an equitable economy. That is why the Massachusetts Business Roundtable – comprised of CEOs and senior executives from the state's largest employers focused on advancing public policy to strengthen the Commonwealth's long-term economic prosperity – is partnering with the Executive Office of Labor and Workforce Development, the Federal Reserve Bank of Boston, Conexión, and IBA to bring attention to a significant but too-often overlooked population in our labor market and economy – Latinos.
Themed "Essential Today, Essential to the Future: Latinos and an Equitable Labor Market Recovery," three key takeaways emerged from a recent virtual convening that featured notable speakers including Governor Charlie Baker, Massachusetts Labor and Workforce Development Secretary Rosalin Acosta, Roundtable past-Chair Bob Rivers of Eastern Bank, and Prabal Chakrabarti of the Federal Reserve Bank of Boston among others.
Guided by data, strong public policy, and collaboration across sectors, three takeaways offer a roadmap for the Commonwealth to build public policies and solutions that recognize Latinos as critical to the state's workforce and overall competitiveness.
Latinos are a vital asset to the Commonwealth.
"Without Latino population growth there would not be growth in Massachusetts." – Prabal Chakrabarti, Executive Vice President & Community Affairs Officer, Federal Reserve Bank of Boston
The recent 2020 U.S. Census data indicates 40% growth among Latinos in Massachusetts, driving the state's population growth since the last Census. In fact, the Federal Reserve Bank of Boston attributes Massachusetts' population growth to the significant growth among Latinos, a demographic that now represents 12.4% of the state's population. Prabal provides further data that demonstrates the changes in demographics and the essential role Latinos provide within the economy. Specifically, Latino workers are overrepresented in sectors impacted greatest by the pandemic, which correlates to disparate outcomes in health, income, and wages. While Latinos were among populations most impacted by the pandemic, Latino workers contribute assets to our economy from entrepreneurship and talent to linguistic capital and international ties, Latinos have and continue to contribute to our labor market and economy. Recognizing Latinos as vital assets will serve the Commonwealth's recovery goals and build a strong talent pipeline to support our workforce.
The pandemic highlighted structural inequities that have disproportionately impacted Latinos.
"Childcare is one of the biggest obstacles for people in our community to get back to work." – Juan Fernando Lopera, Chief Diversity, Equity, and Inclusion Officer, Beth Israel Lahey Health and Co-Chair of the Latino Equity Fund
Unemployment, fair wages, limited work supports like childcare are just examples of the challenges exacerbated by the pandemic and that disproportionately impacted Latino workers. As we invest in the Commonwealth's economic recovery, we must address persistent barriers for people to re-enter the workforce such as the cost and accessibility of childcare, English language learning, digital access, adoption, and proficiency among other resources. As Eastern Bank's CEO & Chair Bob Rivers stated, "the ability to go back to work is critical infrastructure" and we cannot overlook these critical work supports that currently create barriers and inequities in the labor market.
"An equitable recovery is an intentional recovery."
Executive Office of Labor and Workforce Development Secretary Rosalin Acosta emphasizes intentionality when she discusses strategic ways for the Commonwealth to deliver an equitable recovery. Understanding the data can then make efforts even more intentional, which is why she has created a new Department of Economic Research to provide reliable research in aiding policy making. Mahesh Ramachandran, Chief Economist for this new department, has taken the lead on building Diversity Dashboards to bring to together data that reflects the reality faced by Hispanics/Latinos, Blacks, and Asian communities in the Commonwealth. A preview of the Diversity Dashboard for Hispanics and Latinos, available at the link below, shows that the Massachusetts communities with the highest concentration of Latinos also experience higher levels of poverty, lower home ownership rates, and lower rates of broadband access. Data is a critical tool to identify challenges and trends that can guide us to the most impactful solutions, such as focusing on communities in the Commonwealth with a higher share of Latino residents, and recognizing which sectors are experiencing growth yet in need of labor. An intentional recovery also requires collaboration between public, private, and non-profit partners. As the Roundtable references in our Talent Agenda to Drive Massachusetts' Competitiveness, employer participation will be valuable in tapping talent through new career pathway programs focused on reskilling, training, and developing talent, especially talent such as Latinos who are currently underrepresented in high growth sectors like tech, healthcare, and advanced manufacturing.
Equity must be a guiding principle as we invest in the state's economic recovery and long-term economic prosperity and competitiveness. Latinos have been disproportionately impacted by the pandemic and eliminating structural barriers will increase access and opportunity for Latinos, and all, to thrive in our economy. Maintaining an understanding and recognition that Latinos are essential assets to the Commonwealth's economy coupled with an intentional, data-driven recovery strategy will lead to more sustainable solutions that ultimately strengthen the Commonwealth as a whole.
As an organization representing employers whose public policy agenda is guided by equity, opportunity, and competitiveness, the Roundtable looks forward to continued dialogue and collaboration to support public policies that recognize Latinos as vital assets to the Commonwealth.
---
Resources
"Essential Today, Essential to the Future: Latinos and an Equitable Labor Market Recovery" was recorded in October 2021 with many highlights and resources to support a continued dialogue on this topic. Below is a listing of these resources including a copy of the slides, highlights, and links to content shared: